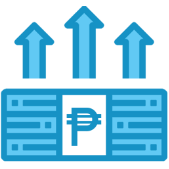 Nag-iipon ka na,
kumikita ka pa!
Make your money grow with our high interest savings account!
Minimum Daily Balance Requirement
Minimum Daily Balance to Earn Interest
MSB Step Up Saver Account
Upgrade your savings and earn up to 1.50% per year!
Enjoy this higher interest rate without having to lock your funds!
Get the flexibility of a savings account while you enjoy the high interest rates of a term deposit
Highest interest savings account
yield in the market

Easy access to your funds without charges
₱10,000,000 < ₱20,000,000
₱20,000,000 < ₱50,000,000
HOW CAN I OPEN AN MSB ACCOUNT?
Fill out the account opening forms.
Submit the following requirements:
For Individual Accounts:
2 pcs. (1×1) recent ID picture
At least 1 valid photo-bearing government issued ID